Hollywood usually appreciates dramatic metaphors but when wildfires roared into Los Angeles this week no one said: oh look, just like the Oscars.
It's a bit too early in awards season to know whether sexual misconduct scandals will immolate or merely singe the film industry's annual ritual of red carpets, speeches and gongs. But few doubt the the toxic air swirling around Hollywood will impact and potentially disrupt the 90th Oscars, starting with next month's nominations and the event itself on 4 March.
"They're 'deer in the headlights' at the moment," said Richard Rushfield, who publishes an entertainment industry newsletter, The Ankler. "They have no idea how to deal with this stuff. They should just shut down for a year or two until this blows over."
Fresh revelations this week from the New York Times this week about the "complicity machine" behind Harvey Weinstein's predations cast a pall of questions over studio executives, lawyers, publicists, agents, managers and others who play roles in awards campaigning and voting.
The cascade of exposes, showing how swathes of the industry colluded in or turned a blind eye to abuses by Weinstein and others, seemingly evokes the plot of Murder on the Orient Express: they all did it.
The febrile mood and #MeToo movement leaves the Academy of Motion Picture Arts and Sciences grappling for answers: can it avoid nominating people suspected of sexual misconduct? If alleged wrongdoers are shortlisted can it rescind nominations? Can host Jimmy Kimmel avert a ratings slump when he steps onto the Dolby theatre stage?
"We are in uncharted territory," said Michele Burke, a two-times Oscar winner for make-up who sits on the Academy's executive committee.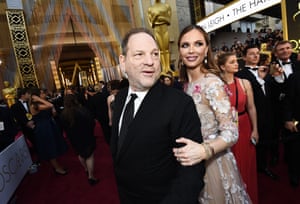 Burke, who spoke in a personal capacity, shuddered at the prospect of nominations triggering a fresh round of allegations. "I hope not. That would be awful – to wait until someone's been nominated." The sooner wrongdoing was exposed the better, she said. As for possibly revoking nominations, that too was uncharted, said Burke. "I honestly don't know."
She echoed many in predicting that women will do well in the awards. "Women in front of and behind the camera will certainly be highlighted … we are experiencing a 'moment', the intent of which is to shift the working relationship between men and women." It helped, said Burke, that there happened to be a crop of very strong female-led and female-centric films.
Hollywood pundits have tipped first time director Greta Gerwig's Lady Bird, starring Saoirse Ronan, for a possible sweep. There is also speculation that Patty Jenkins's Wonder Woman, starring Gal Gadot, could become the first superhero blockbuster to grab top gongs.
A female-centric zeitgeist could lock Christopher Nolan's Dunkirk and Joe Wright's Darkest Hour out of best picture, though Gary Oldman is a best actor frontrunner for his depiction of Winston Churchill.
"Post nomination announcements are likely to have pundits in a frenzy by the sheer number of women recognized. But remember it was a particularly robust year for women," said Richard Licata, CEO of Licata & Co, a veteran awards strategist. He cited Lady Bird, The Shape of Water, Molly's Game and Three Billboards Outside Ebbing, Missouri.
The Oscars may also be buffeted by another #OscarsSoWhite controversy if, as expected, few actors of colour – possibly none – are nominated.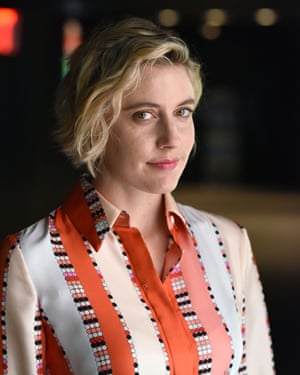 The Academy has more than 8,000 members and along with the executive committee is run by a 51-member board of governors, with three governors each from the Academy's 17 branches.
It is a largely ceremonial body, a chamber of commerce for the movie business, said Rushfield. "It was never intended to be an arbiter on hot button issues. They've been thrust into this role and would give anything to have it removed. They're not a crisis PR firm that's ready to leap into action."
After the revelations about Weinstein, Kevin Spacey, and Louis CK, and allegations against Brett Ratner, Jeffrey Tambor (which both have denied) and dozens of others, many agree that the Academy cannot simply funnel stars onto a stage to present trophies along with some songs and comedy.
Already there is controversy over Casey Affleck being slated to present the best actress award. The Manchester by the Sea star has faced harassment allegations, which he has denied.
"There are all sorts of whispers about people. The Academy has no precedent for how to deal with something like this. It's endless, and they're ill equipped," said Rushfield.
Some however credit the Academy, which for decades ignored controversy over Roman Polanksi and Woody Allen, with newfound responsiveness. After revelations about Weinstein broke last October it swiftly expelled the producer and established a code of conduct with "a policy for evaluating alleged violations and determining if action regarding membership is warranted".
"If a misconduct controversy rears its ugly head concerning a frontrunner, studios and campaigners will have to pivot and make responsible decisions – not just for the sake of the film or actor involved but for the reputation of their organisation," said Licata, the strategist.
The code empowered the Academy to cap any eruptions, said Sasha Stone, who runs the site Awards Daily. "If allegations were serious enough they could pull that person from the list of nominees."
Donald Trump and his supporters could pose a different challenge, said Stone, by trolling the Oscars as a bastion of perverts and abusers, an opportunity to bash liberal Hollywood despite Trump's own record of harassment and abuse allegations.